Posts
https://doublemaviation.com/wp-content/uploads/2019/09/N52LD-Cessna-414A-RAM-VII-modification-3.jpeg
1536
2048
Audrey
https://doublemaviation.com/wp-content/uploads/2015/02/double-m-aviation-300x204.png
Audrey
2019-09-20 10:51:55
2019-09-20 17:31:55
The Pilots and Planes of Double M Aviation: Cessna 414
Every year in the United States, 8 million dogs and cats enter shelters and more than half won't make it out alive. An unspayed female cat, her mate and all of their offspring, producing 2 litters per years, with 2.8 surviving kittens per year can total 11,606,077 cats in 9 years. Source: Spay USA. An estimated 6 to 8 million dogs and cats are euthanized in shelters each year. Millions more are abandoned, only to suffer from illness or injury before dying. Source: Doris Day Animal League. Thankfully we have people who have become aware of this animal crisis and have taken action.
Pilots N Paws is a non-profit national organization of volunteer pilots that work together and connect shelters, rescues and families with at-risk animals. This organization was founded in February of 2008. The volunteer pilots that take part in Pilots N Paws have a passion for flying and a passion for animals.
There are about 5,000 volunteers across the United States, without which thousands of animals would continue to face hardship and death. Pilots N Paws, with the help of their pilots, is making a statement about animals that need help and assistant. The transport of these animals is made in a very safe and human method. Each pilot is assigned dogs based on the size and types of crates that each aircraft can carry.
Double M Aviation is proud to provide maintenance to two such volunteers! Tom Dillion and Jeff Hibbard each selflessly donate their time, airplanes, and associated expenses to aid in re-homing many abandoned and at risk dogs.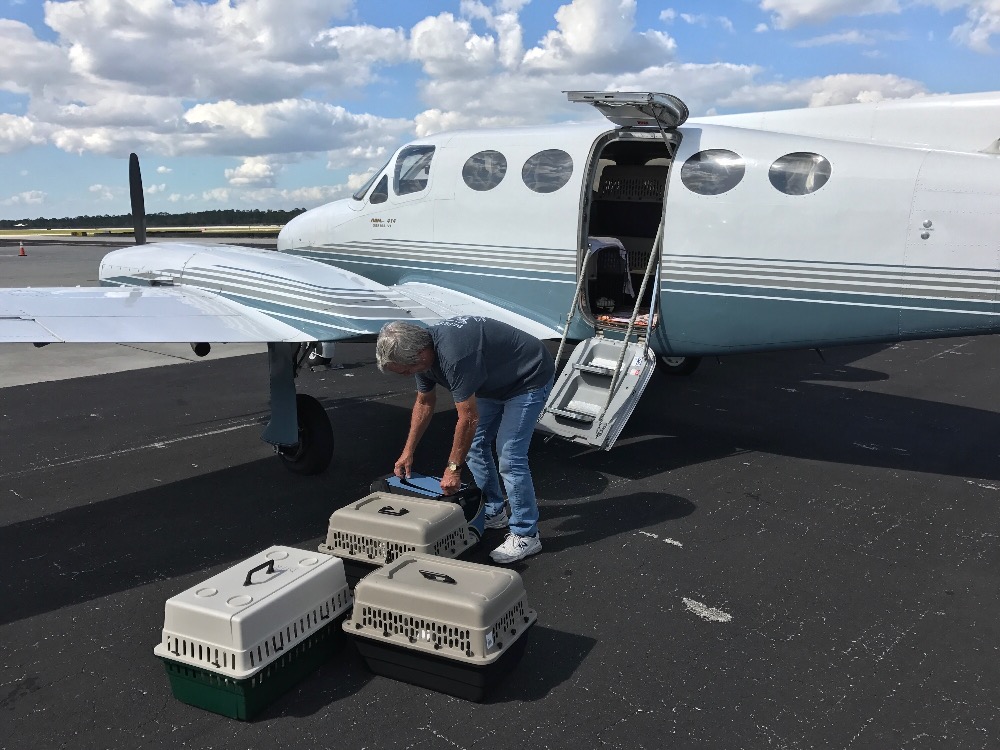 Tom Dillon participates in the Pilots N Paws program as well as completing trips independently using his Cessna 414. With a fuel capacity of 206 usable gallons and a huge cabin-class interior, the Cessna 414 allows for the transport of multiple crates at a time. However, along with the large amount of cabin space this twin engine Cessna brings to the table, comes a large fuel bill. To help offset the cost Dillion incurs while utilizing his Cessna 414 to rescue homeless dogs he has set up a Go Fund Me account with all proceeds going directly toward the fuel bill. You can find his page here.
Jeff Hibbard flies a Piper PA28R-200 Arrow. While the Arrow's cabin may not be as spacious as the Cessna 414, she is a work horse of her own class. With a typical empty weight of around 1500 lbs and a range of approx. 600 nm, the Arrow can be loaded up with fuel and a pilot and still carry multiple crates. Hibbard has his aircraft set up so that the co-pilot seat and rear seats can be removed to facilitate moving the crates in and out with ease.
Sources: http://www.pilotsnpaws.org/, http://www.thedogrescuers.com/statistics–facts.html, https://www.gofundme.com/cyhf6s-save-a-dog-today
https://doublemaviation.com/wp-content/uploads/2017/06/Tom-Dillon-Pilots-N-Paws.jpg
750
1000
Audrey
https://doublemaviation.com/wp-content/uploads/2015/02/double-m-aviation-300x204.png
Audrey
2017-06-22 09:00:50
2017-10-11 11:19:20
Pilots N Paws
Pilots are unique, and your pilot is even more special! This list of the Top 5 unique gifts for pilots includes the things they need, and the things that will make any pilot smile. These perfect gifts will allow them to enjoy the sensation of being a pilot both in the air and on the ground.
Garmin D2 Pilot Watch
This watch was specifically designed for Pilots! Featuring Garmin's signature direct-to and nearest navigation functions, as well as a built-in altimeter with adjustable baro setting, altitude alerting capabilities, display of both local and Zulu/UTC time, and the ability to seamlessly integrate with the Garmin Pilot app, VIRB action camera, and more. This is the perfect gift for your pilot, with a stylish look!
2. Remove Before Flight T-Shirt
These T-Shirts are a fun way for your Pilot to show their enthusiasm for flying, even when they're not at the airport. Enjoy a good laugh with your Pilot over this awesome shirt! Also available in tank tops, boxers, sweatpants, etc.
Honorable Mention: I'd Rather Be Flying shirt
For anyone who enjoys the Sports Chalet license plates, this is basically the t-shirt version. Works as a great gift for Cessna pilots and commercial pilots alike.
3. Bose A20 Aviation Headset
The A20 headset gives your Pilot 30% greater noise reduction than conventional aviation headsets, so they'll enjoy a peaceful flight from short stops to long hauls. It weighs just 12 ounces, with sheepskin cushions and minimal clamping force, so it's one of the lightest and most comfortable aviation headsets you'll find. All designed to let your pilot focus on what matters, flying.
4. Cockpit Coasters
This aviation coaster set is made to simulate, as closely as possible, a primary flight instrument. Each coaster features the actual shape of an aircraft instrument and a dial that closely represents that of the standard flight instrument. This is a fun gift that every pilot will enjoy!
5. Pilots Lighted Kneeboard
This deluxe kneeboard features a unique lighting system that incorporates a rheostat for adjusting brightness and is perfect for both late night flights and the flights during the brightest hours of the day. Kneeboards were first adopted by the Air Force and Navy because of their proven reliability, high quality, and lightweight construction. They make flights smoother and more organized, meaning safer flying! This is a pilot must have!
Valentines Day, and every day is the day to remind your pilot how much they mean to you, and that you are thinking of them. Find all of the items above and much more by clicking on the websites below:
https://www.sportys.com/pilotshop
https://www.pilotmall.com/category/gifts-toys-artwork
https://doublemaviation.com/wp-content/uploads/2016/12/Cockpit-Coasters.jpg
522
500
Audrey
https://doublemaviation.com/wp-content/uploads/2015/02/double-m-aviation-300x204.png
Audrey
2017-01-23 08:00:07
2018-07-16 11:47:26
Top 5 Unique Gifts For Pilots