Posts
https://doublemaviation.com/wp-content/uploads/2019/09/N52LD-Cessna-414A-RAM-VII-modification-3.jpeg
1536
2048
Audrey
https://doublemaviation.com/wp-content/uploads/2015/02/double-m-aviation-300x204.png
Audrey
2019-09-20 10:51:55
2019-09-20 17:31:55
The Pilots and Planes of Double M Aviation: Cessna 414
Every year in the United States, 8 million dogs and cats enter shelters and more than half won't make it out alive. An unspayed female cat, her mate and all of their offspring, producing 2 litters per years, with 2.8 surviving kittens per year can total 11,606,077 cats in 9 years. Source: Spay USA. An estimated 6 to 8 million dogs and cats are euthanized in shelters each year. Millions more are abandoned, only to suffer from illness or injury before dying. Source: Doris Day Animal League. Thankfully we have people who have become aware of this animal crisis and have taken action.
Pilots N Paws is a non-profit national organization of volunteer pilots that work together and connect shelters, rescues and families with at-risk animals. This organization was founded in February of 2008. The volunteer pilots that take part in Pilots N Paws have a passion for flying and a passion for animals.
There are about 5,000 volunteers across the United States, without which thousands of animals would continue to face hardship and death. Pilots N Paws, with the help of their pilots, is making a statement about animals that need help and assistant. The transport of these animals is made in a very safe and human method. Each pilot is assigned dogs based on the size and types of crates that each aircraft can carry.
Double M Aviation is proud to provide maintenance to two such volunteers! Tom Dillion and Jeff Hibbard each selflessly donate their time, airplanes, and associated expenses to aid in re-homing many abandoned and at risk dogs.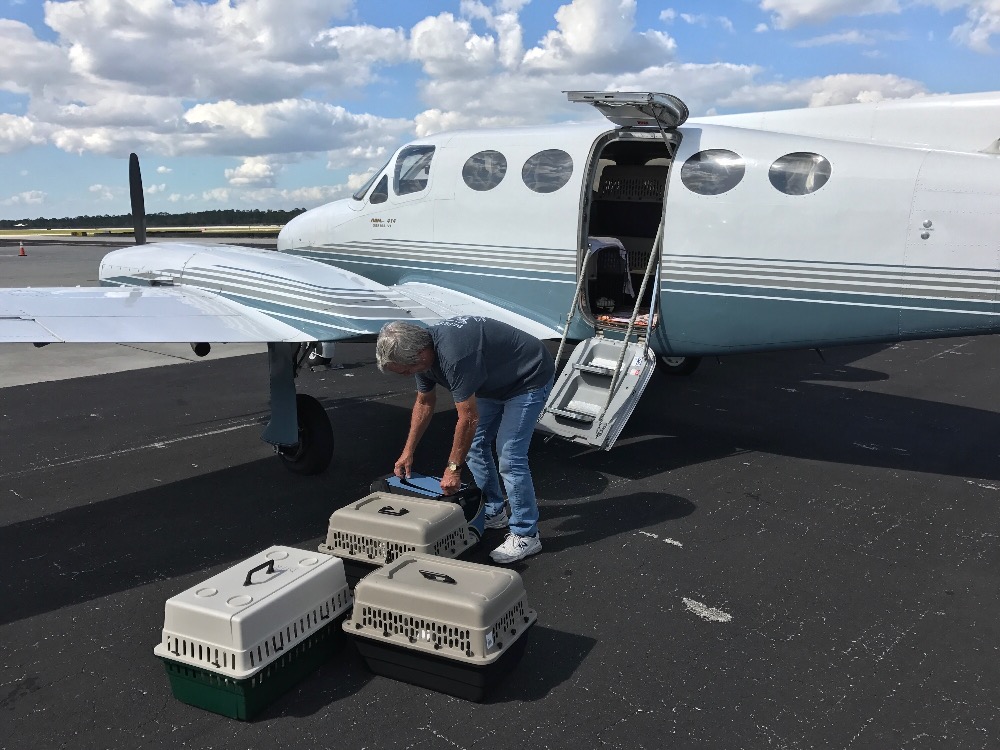 Tom Dillon participates in the Pilots N Paws program as well as completing trips independently using his Cessna 414. With a fuel capacity of 206 usable gallons and a huge cabin-class interior, the Cessna 414 allows for the transport of multiple crates at a time. However, along with the large amount of cabin space this twin engine Cessna brings to the table, comes a large fuel bill. To help offset the cost Dillion incurs while utilizing his Cessna 414 to rescue homeless dogs he has set up a Go Fund Me account with all proceeds going directly toward the fuel bill. You can find his page here.
Jeff Hibbard flies a Piper PA28R-200 Arrow. While the Arrow's cabin may not be as spacious as the Cessna 414, she is a work horse of her own class. With a typical empty weight of around 1500 lbs and a range of approx. 600 nm, the Arrow can be loaded up with fuel and a pilot and still carry multiple crates. Hibbard has his aircraft set up so that the co-pilot seat and rear seats can be removed to facilitate moving the crates in and out with ease.
Sources: http://www.pilotsnpaws.org/, http://www.thedogrescuers.com/statistics–facts.html, https://www.gofundme.com/cyhf6s-save-a-dog-today
https://doublemaviation.com/wp-content/uploads/2017/06/Tom-Dillon-Pilots-N-Paws.jpg
750
1000
Audrey
https://doublemaviation.com/wp-content/uploads/2015/02/double-m-aviation-300x204.png
Audrey
2017-06-22 09:00:50
2017-10-11 11:19:20
Pilots N Paws
Cessna 414A Chancellor
Check out this Cessna 414A Chancellor's before and after photos! Restored right here at our local airports, Lakeland and Bartow. Owned by Christophe Jouany.
Recently the Flying Magazine published an article about Christophe Jouany, and his purchase and restoration of a Twin Cessna 414A Chancellor. The whole process took  six months to complete.  The Cessna 414A was restored right here at our local airports, Lakeland and Bartow, where it was completely gutted and restored to include both modern avionics and classic interior and paint design.
Christopher Jouany a resident of Tampa, Florida first brought his aircraft to Custom Avionics at the Bartow airport. The team transformed the cockpit into a state-of-the-art glass cockpit. Which includes an impressive combination of synthetic vision, traffic awareness, weather, radar, instrument lighting, and auto pilot features all housed in a custom panel designed by Jouany.
Next, Jouany brought the Cessna 414A to Duncan Interiors, located at our home base, the Lakeland airport, where they renovated the gutted interior into a classic professional interior. With amenities including suede seats, cabinetry and carpeting, and details such as the Cessna Chancellor logo stamped into the leather seats and yokes.
The final stop for the aircraft was at Foster's Aircraft Refinishing, also located at the Lakeland airport. Jouany decided on the paint scheme, white with blue and silver accents, and the team at Foster's went to work creating a unique modern design.
The restoration of the Chancellor was completed in Septemeber 2014. Since then Jouany has taken many flights to Key West and to the islands he grew up in. Double M Aviation has had the privilege of working with Jouany since the restoration to ensure the aircraft continues to be maintained to his high standards. Jouany summed up his experience of going through the long process of restoration, to the Flying Magazine by saying, "I think that I now have the best Cessna 414 in the world."
Restoration Photos of Cessna 414A Chancellor
Check out the Flying Magazine's Article on the Cessna 414A Chancellor Restoration and to see the complete photo gallery of the before and afters.
Flying Magazine Article and Photo Gallery
https://doublemaviation.com/wp-content/uploads/2015/11/cessna-414a-refurb-011-1.jpg
404
600
Audrey
https://doublemaviation.com/wp-content/uploads/2015/02/double-m-aviation-300x204.png
Audrey
2015-11-20 14:47:19
2017-10-11 15:51:31
Restoration of a Cessna 414A Chancellor